Dr. Scott E. Borgholthaus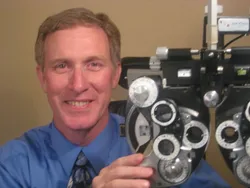 Optometrist at Vision Haus, Dr. B. has been doing eye exams for over 25 years. He is licensed for vision as well as medical eye exams. He is especially concerned about the health of the retina and front surface of the eye as well as prescribing comfortable, clear lenses. He would love to talk to you about the latest digital lenses, cholesterol in the eye, dry eye technology, and fishing or golf stories. Cheney's Vision Haus welcomes Dr. Borgholthaus' eye expertise.
Jeannette Duvall Borgholthaus
Jeannette grew up in Laramie, Wyoming. She met her husband, Scott Borgholthaus her freshman year at BYU. They married after his mission to Argentina. She did daycare for years while raising their 4 children and also helping with the optometric business . She enjoys playing the viola, violin and piano, gardening, hiking and reading. In 2011 she finished her bachelors from BYU through Independent Study. Now working full time at Vision Haus, She thinks it is great fun to help people pick out glasses and loves how optometry is both medical and fashion.